A strong LGMD2I community needs a strong FKRP registry! Help yourself and the LGMD2I community by building a strong and relevant registry. Don't delay – sign up today!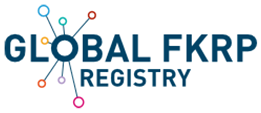 If you have recently been genetically diagnosed with LGMD2I, it is essential that you become a member of the Global FKRP Registry.
The Global FKRP Registry is an online registry that collects information about people affected with muscle diseases due to mutations in the FKRP gene. It presents an attractive source of information to researchers, healthcare professionals and pharmaceutical companies and is an invaluable aid to the rapid identification of eligible patients for clinical studies.
To become a member of the Global FKRP Registry, it is important to know your genetic diagnosis, which is the combination of mutations in the two copies of your FKRP gene. Sending your genetic report to the registry's coordinator is an important step to ensure you can be considered eligible for future studies. Your participation is voluntary, your account is password-protected, and your data confidentiality will be respected. Entering personal and basic medical data is straightforward. Importantly, your physician will be able to enter more detailed clinical data on your behalf.
Head of registry: Volker Straub, MD, PhD
Coordinator/curator: Lindsay Murphy, PhD
To become a relevant member of the FKRP registry, you need to include your genetic diagnosis (the combination of mutations in the 2 copies of your FKRP gene) in your registry profile.
Complete your registry profile as soon as possible.