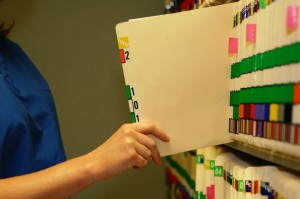 Patient registries are databases of medical information gathered to:
Estimate disease prevalence
Learn how the disease affects people differently
Accelerate and facilitate clinical trials by locating potential research participants
Support research towards a cure
Assist with the development of recommendations and standards of care
Registries are very important resources, because we will not be successful in finding a treatment or cure unless we know who the affected individuals are, what their diagnoses are and how the disease is affecting them.
We ask all people with confirmed FKRP mutations to register in the International FKRP registry.  Those with a confirmed mutation in any of the other alpha-dystroglycan related genes, including POMT1, POMT2, POMGnT1, DAG, LARGE and fukutin and those without a genetic diagnosis, we ask to register in the CMD International Registry (CMDIR). The International FKRP registry and the CMDIR work together to provide registrants with the same up to date information on clinical studies and trials relevant to these diseases.
International FKRP Registry
The International FKRP (Fukutin-Related Protein) registry collects data from patients worldwide affected by a mutation in the FKRP gene. Most patients with this type of mutation have a type of limb girdle muscular dystrophy known as type 2I (LGMD2I), but FKRP mutations may also cause a form of congenital muscular dystrophy (CMD) known as MDC1C, and in rare instances the diseases known as Muscle Eye Brain (MEB) disease and Walker-Warburg Syndrome (WWS).
CMDIR
The Congenital Muscle Disease International Registry (CMDIR), including congenital muscular dystrophy, congenital myopathy and extending to limb girdle spectrum, was created to identify the global congenital muscle disease population for the purpose of raising awareness, improving standards of care, advancing clinical trials and, in the future, finding a treatment or cure.  This registry includes congenital myopathy (all subtypes) and congenital muscular dystrophy (all subtypes) and registers through the limb girdle spectrum for both disease groups.
The CMDIR interacts with the CMD BioBank, which is a collection of samples of skin and blood from CMD and LGMD patients. This collection can then be used by scientists in their research towards a cure. To make a donation or to find more information about the Biobank, please click on following link: http://curecmd.org/research/biobank